One week hands-on Italian cooking classes | Mama Isa's Cooking School Venice Italy
Read our Reviews on Google about Mama Isa's Cooking School
Italy is a dream destination for many foodie lovers and aspiring cooks, but with so many cooking courses, how do you choose wisely? This is the best place to learn the old art of Italian Regional Cooking.
It's never too late to learn how to Cook!
Objective: This cooking holiday is ideal for those who have always wanted to have an in depth understanding of Italian Cooking but have been unable to take a long time off. It covers historical, technical, and practical aspects of Italian Cooking, as well as, teaching methods in Cooking.
The usual cooking course is 1 week (7 nights) and offers 5 morning cooking classes of various content according to the teacher and session. One day excursion.
Students should aim to arrive on Saturday between 03:00 pm and 07:00 pm (an extra charge for check in after 7:00 pm), the first class of the course is the day after: Sunday morning and the last class is on a Friday morning, with departures on the last Saturday by 10:00 am.
The Courses (5 cooking classes) immerse the participant into the essence of Italian cuisine, teaching both its aspects, historical as well as practical. We are so flexible about the arrival so if you decide to arrive another day - for example not on Saturday but on Tuesday or on Friday, please contact us soon.
The Course is motivational, informative, and, above all, experiential.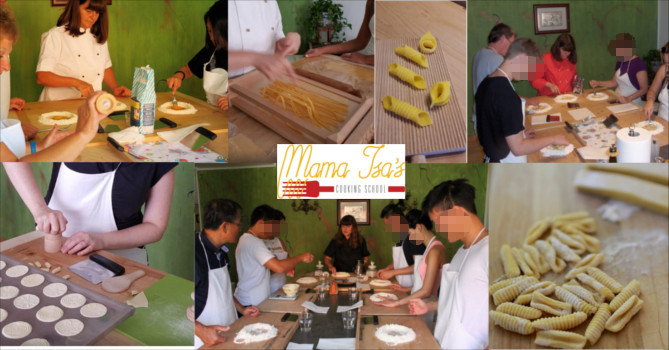 TRIP HIGHLIGHTS
- A hands on, fun and interactive cooking course with our expert chef Isa;
- Small group participation in intimate surrounds. Group size is limited to 8 in the kitchen.
DURING YOUR STAY Stay with us for a Cooking Holiday and enjoy flexibility of your time.
7 DAYS EXCLUDING FLIGHTS
WHAT'S INCLUDED:
- Accommodation (7 nights or only 4 or 5 or 6 or 7)
- Daily espresso coffee or tea and cookies at the Mama Isa's Cooking School (at 09:30 am) before starting the cooking class
- A large, healthy meal (lunch and wine and drinks) per day in the Mama Isa's Cooking School (during the cooking classes) - Italian spice box and apron
- All scheduled 5 cooking classes (every morning at 10:00 am - The classes are 4-5 hours daily)
- A trip to learn the old art of making CHEESE (how to make the real PARMESAN CHEESE grana padano) and in the afternoon learn the art of GRAPPA making. Or if you prefer a guided winery visit and WINE TASTING TOUR.
- Two trips to the Italian Food Market in Padova, one of the most famous markets in Europe.
- A recipe booklet (an electronic booklet)
- Wine, water and espresso coffee during dinners
- Cooking certificate
WHAT'S NOT INCLUDED:
- International flights and visas
- Arrival and departure airport transfers (but we can help you with important information how to get here; the best airport is Venice, and from Venice you can take a shuttle bus and in only 45 minutes you are here!)
- Tipping - an entirely personal gesture
- Laundry service
- Local car hire
- Optional activities (on demand a wellness and revitalizing SPA day - in the afternoon after the class. The SPA, by the Euganean Hills Montegrotto Terme and just a few kilometers from Mama Isa's Cooking School in the heart of Veneto region, is placed in the Terme Euganee area, the biggest European thermal basin. A big park with hot spring thermal swimming pools are the frame in which the SPA and its thermal and wellness center are located.
- Drinks, items of a personal nature
- Travel insurance
- Any other services or activities not stated in the program
SKILL LEVEL
- Beginner or Intermediate or Professional Chefs
THINGS TO DO:
Free time in the afternoon and in the evening so you can enjoy the town, go shopping, visit the center of the city in the afternoon or visit Venice or Verona. Or just relax in your accomodation.
(On demand the team can offer you a wine tasting in the late afternoon - price on demand)
Beginners are welcome!
Every course is suitable for all levels.
Speaks English.
If you have special dietary requirements it's a good idea to communicate it to the team when making a reservation.
The team will help you about what you can see, where you can go, which are the best restaurants or bars for dinner!
DATES
Departs weekly, Saturday to Saturday from January through to December (excluding 20 Dec – 05 Jan): available all year round, with arrival on Saturday. Remember we can start the cooking course not only on Saturday (other day upon request).
PRICE : The displayed amount (in the pic above) is indicative and based on the exchange rate at the time of booking.
ACCOMODATION
During this holiday, you will be staying at an apartment in a building, located near the main attractions of the city, which is just a five-minute walk from the Mama Isa's Cooking School. The apartment has the highest quality.
The apartment has bathroom, kitchen, a large dining & living room, wardrobes, digital television, and air conditioning or heating.
How to get there - Which airport is best for you when flying to Mama Isa's Cooking School?
Arrival by airplane - Please book your flight to arrive at Venice Airport (VCE - the nearest airport).
Airport transfers to Mama Isa's Cooking School
Transfer from and to Venice Airport: with only 60 € you can reserve a shuttle taxi to get here.
To contact Mama Isa, please click the link ---> CONTACT US or by phone send a text (our mobile is +39 339 2672571) or send us an email, click --->HERE
We are all used to communicate with our friends via WhatsApp. Chat with us via Whatsapp +39 339 26 72 571 - +39 is the Italy code - For Cooking Course Bookings and Enquiries Only.
Contact us soon with WHATSAPP
To book your cooking vacation 2018 email us soon ( isacookinpadua (at) gmail (dot) com