Full Day Cooking Classes at Mama Isa's Cooking School Venice Italy
Learn how to make a real delicious Italian meal from scratch in 5-6 hours.
We invite you to join us at our one day cooking classes!
Master The Fundamentals Of Italian Regional Cuisine To Make a Real and Authentic Italian Meal from Scratch!
Our Chef teaches you step by step how to make a delicious starter antipasto, a primo piatto first course (homemade pasta or risotto or a vegetable soup) as well as a delicious dessert.
Our one day cooking classes have the mission of sharing with you our food and cooking knowledge with you
Completely hands on Cooking Lessons
FULL DAY COOKING CLASS DESCRIPTION
• The 5-6 hours hands-on cooking class covers a wide range of authentic Italian recipes;
• We love the concept of Slow Food Organization
• Only Italian Ingredients;
• Recipes in English;
• Taught in English;
• Every cooking class is super-fun, tasty and instructive;
.... and much more!
• Starting Time:
at 10:00 am or at 4:00 pm. We work every day of the week, because we are very flexible from Monday to Sunday included.
• Duration:
approx. 5-6 hours
How many people can I reserve for? We can accommodate from two up to twelve people. But we available with one on one class.
In our one day cooking classes there is no dress code.
Location: Veneto region - Venice area - Italy
How to get in touch with Mama Isa's Cooking School?
Whether you want to enquire about our full day cooking classes, have special dietary needs, want to organize something special or anything else, please just contact us and we will get back to you within 24 hours.
SEND US AN EMAIL for cooking class inquiries, questions, informations, suggestions or collabs!
Click here ---->

to send us an email: isacookinpadua [at] gmail.com
CHAT WITH US ON WHATSAPP!
Click here to chat with us with Whatsapp----->.

or CALL US BY PHONE with WHATSAPP +39 351 576 74 93
A last thing: if you don't find our mail reply in your inbox within 72 hours, please check your junk mailbox or contact us soon again. Whatsapp is more convenient, but you can email us again, of course!
We accept last minute requests.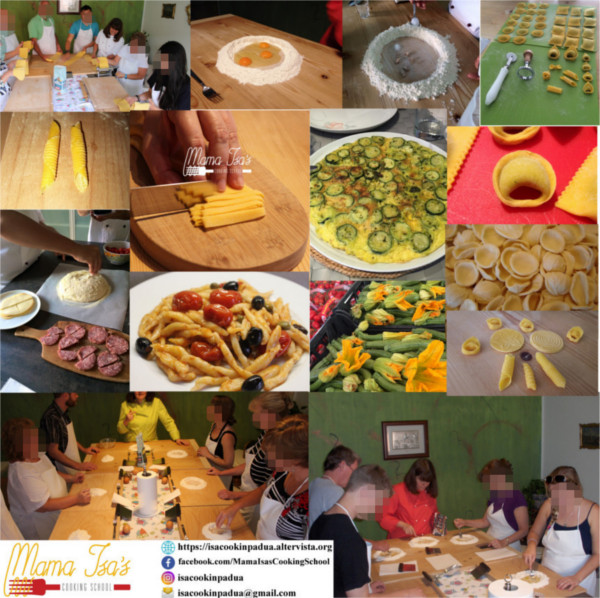 What will you learn?
• Five or six recipes from scratch;
• Professional Techniques from the classic Italian Regional Cuisines;
• Our chef is a food historian so she will surprise you with lots of stories about Italian Culture and the history of Italian Cuisine.
OUR MOST POPULAR FULL DAY MENUS (with meat or meat and seafood, or only seafood, or vegetarian options):
• ANTIPASTI - STARTERS:
Crostini with delicious toppings or Bruschetta with garlic, tomatoes, basil, evoo, black pepper or a typical perfect cheese and cured meat board with Italian cheeses and Prosciutto Crudo di Parma or Prosciutto Crudo di Norcia or Prosciutto Crudo di San Daniele (charcuterie) and salami platter board or the famous beef Bresaola (a real food excellence of Lombardy - a typical cold cuts of Valtellina) served on arugula, DOP Parmigiano Reggiano cheese, DOP Balsamic Vinegar of Modena, or Caprese Salad with the DOP Buffalo Milk Mozzarella, basil, organic evoo, tomatoes, or a creamy DOP Burrata cheese (a stretched-curd mozzarella cheese from Puglia region with a very soft and creamy filling) with Arugula, Parmigiano reggiano cheese and baby tomatoes or the famous Egg Frittata with Zucchini or Chickpea Farinata Tart or Torta al testo (homemade bread made typical in Umbria region, made a circular heavy cast iron pan placed over the cooktop - served with greens and pork sausages or a local organic Veneto's delicious pork salami called Soppressa or with the cream cheese Stracchino or Robiola and Prosciutto.
• FIRST COURSES - PRIMI PIATTI:
or Fresh hand-made pasta Tagliatelle - Fettuccine with Bolognese Sauce or homemade Spaghetti alla Chitarra with Carbonara sauce or Potato Gnocchi with Butter, Sage, Parmigiano reggiano sauce or Cavatelli with Sausage and Tomato Sauce or Orecchiette with Broccoli Rabe or Baked Ziti or Fresh Pasta Angel Hair Capellini with the real Alfredo Sauce or Dried Spaghetti with Clams or a creamy Risotto or a delicious vegetable soup as Minestra d'Orzo (Barley soup) or classic vegetable Minestrone or a creamy Vellutata di Zucca o di Porcini, a velvety soup or with squash or with Porcini Mushrooms;
• SECOND OR MAIN COURSES - SECONDI PIATTI:
or the famous Venetian Meatballs "Polpette in umido" cooked in a delicious tomato sauce or Veal Saltimbocca alla Romana or Beef Tagliata or Osso Buco or a very authentic Milanese Cotoletta or Stuffed Peppers or Venetia style Polpettone Meatlof or Pork Sausages with Peppers or Veal Scaloppine al Marsala wine or Octopus Salad or Impepata di cozze with toasted garlic bruschette (Peppered Mussels: a Neapolitan classic) or Spezzatino di Manzo or Vitello con vino e pepe (Peppery and red wine Beef Stew or Veal stew) or Chicken alla Cacciatora or Pesce al forno Branzino or Orata con patate e ciliegini (Roasted Fish Seabass or Seabream with Potatoes and baby cherry tomatoes) or the famous Beef Tagliata with Rocket and Parmesan Salad or a simple but super delicious long leavened sourdough FOCACCIA, topped with cherry tomatoes, rosmarine, evoo, oregano, and served with Italian meat and cheeses;
• CONTORNO - SIDE DISH:
or Insalata mista all'Italiana or Insalata di finocchi e arance (Fennel and Sicilian Oranges) or when in season artichoke bottoms or Mushroom style Eggplant or a creamy authentic slow cooked Polenta or Peasant style Zucchini or Sauteed Brocoli Rabe or another vegetable dish;
• DESSERT:
or Classic Tiramisù or Limoncello Tiramisu (with homemade liquor Limoncello) or Panna Cotta with a fruit coulis or homemade Gelato or the famous Crostata or Venetian Cornmeal Biscotti Zaletti or Almond Tuscan Biscotti Cantucci or Mama Isa's Family Chocolate Mousse (without cream!) or the spoon dessert Zuppa Inglese (made with 'crema pasticcera' a pastry custard and cocoa pudding - two different fillings-, Italian biscotti Savoiardi and the famous Italian liquor Alchermes) or the Venetian Zabaione al Marsala wine or Zabaione al Caffè or Carnival Sweet Galani also called Frappe in Rome or Chiacchiere or Ricotta Fritters or Italian Crespelle with Nutella (a delicious Italian Crepes).
Mama Isa's Cooking School is an acclaimed and famous cooking school in Italy featured on The New York Times, Fox News Channel, Fodor's Travel, Lonely Planet, and featured in many food and travel magazines.
It is ranked in the top ten in Italy by major media outlets, including the New York Times.
Please remember our cooking workshops are totally hands-on, not demonstrations.
We have more than 500 hundreds 5-star reviews. Click the image below to see our reviews.