Venetian Italian Jewish Cooking Classes at Mama Isa's Cooking School in Venice Italy.
We offer hands on cooking classes about the traditional Jewish Venetian Cuisine.
The Jewish Cooking of Italy and of Venice - Cucina Ebraica: Flavors of the Italian and Venetian Jewish Kitchen at Mama Isa's Cooking School
We offer or one day Jewish Italian Cooking Classes or Week Long Cooking Courses (but minimum for 2 people). Private classes available upon request.
The Jewish Cooking tradition is very rich in Italy, in particular in Venice and Veneto region. Jewish-Venetian Cuisine and Gastronomy is one of the richest, thanks to the cosmopolitan peculiarity and history which have always characterized the Jewish Community and the Venetian Republic.
In Venice Jews adopted and modified local recipes and meanwhile they shared their traditional and authentic dishes with their new neighbors. So defining Venetian Jewish Cuisine is not a simple task.
The Askhenazi Jews introduced a few typical dishes from the Northern Europe, particularly the goose meat. And many cooking traditions comes from Sephardic Jews.
"Saor" (sweet and sour taste) is a very popular Venetian dish today - so deep-rooted in Venetian cooking (i.e. Sarde in saor, Zucca in Saor, Zucchini in saor....). But 'saor' is not strictly Venetian.
The sweet and sour is a popular flavoring in the Jewish culinary repertoire: vinegar is added to foods as a tenderizer and preservative, and sugar and raisins were and is used to complement an temper the vinegar's acidity.
Pine nuts - so common in Venetian cooking - is also an important ingredient in Far Eastern Cuisine, Mediterranean Cuisine, Middle Easter Cuisine, but the addition of raisins and pine nuts (together) is a signature od Jewish Sabbath (i.e. in Roman Jewish cooking).
This Venetian Jewish cooking class is essential for anyone exploring the roots of Venetian Jewish cooking: a comprehensive experience, perfect for food enhusiasts, Jewish cooks, food historians, and anyone interested in Venetian - Italian Jewish history or food.
Our Cooking Classes can last one day or a week long cooking course but minimum for 2 people.
Don not hesitate to email us for a request (we also accept last minute requests).
Here are some Classic Italian - Venetian Jewish Cooking: Traditional Recipes and Menus
ANTIPASTI
• 'Sarde in saor': one of the most famous
Venetian dish, is instead a Jewish dish. We will make the famous sweet and sour sardines with onions, vingear, pine nuts and raisins. You will learn the importance of 'saor': actually an old signature dish of Venice;
• 'Prosciutto d'oca' or 'Salame d'oca': the famous Goose "Ham" or the famous goose salami;
• A sort of chollah bread (traditional plaited bread);
• 'Frittelle de suca' Venetian Jewish Squash Fritters;
• Squash Saor 'zucca in saor': a sweet and sour recipe with raisins, pine nuts, and squash;
• 'Zucchini in Saor': a sweet and sour recipe with zucchini, raisins, pine nuts;
PRIMI PIATTI
• 'Risotto con l'ua': a special dish with rice and raisins;
• 'Sopa d'orzo' the famous soup Minestra d'orzo (Barley Soup);
• Fresh pasta 'Bigoli in Salsa': this dish is one of the most famous pasta dish in Veneto area - with a special homemade pasta called 'bigoli' made with the torchio bigolaro served on a delicious pasta sauce 'salsa', made with anchovies, onions, pine nuts, raisins... but this dish comes from the Jewish tradition;
• Venetian Jewish Fresh Pasta 'Tagliatelle' with Goose Ragù ;
• The traditional Chicken Soup or Capon Soup called 'Stracciatella', takes the place of the traditional beitazh, made from scratch – described as Jewish penicillin because of its curative properties;
• 'Zupa de pesse' : Venetian Jewish Fish Soup: Fish Casserole;
• Venetian Jewish Asparagus Soup;
• Venetian Jewish Pumpkin Filled Ravioli or Spinach and Ricotta Ravioli;
• delicious Jerusalem Artichokes Risotto;
• 'Risotto di zucca' Butternut Squash Risotto;
• Risotto with various vegetables (bottom artichokes, Jerusalem artichokes, Celery, Zucchini, Squash, Spinach, Peas)
• 'Risotto giallo' called in Venice 'riso al safran' prepared on Friday afternoon for Sabbath dinner, made with saffron.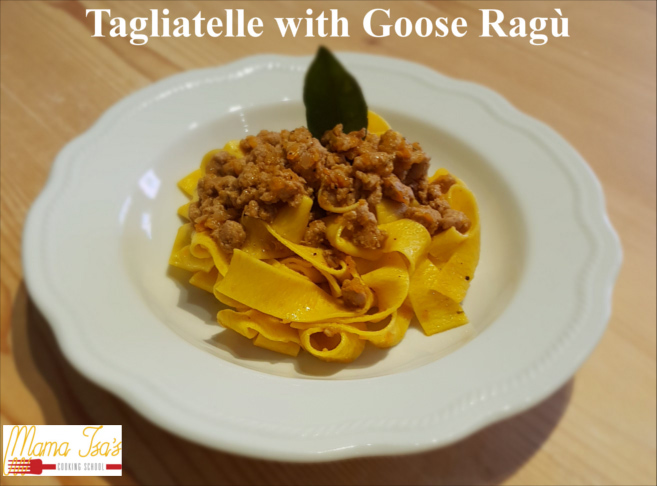 SECONDI PIATTI E CONTORNI
• Kneidlach (Matzo Meal Balls);
• 'Branzin al sal'. sea bass cooked in a crust of sea salt.;
• 'Involtini di verza' Stuffed Cabbage Rolls;
• Slow-Braised Beef Tzimmes (a rich and very flavoursome stew with prunes, carrots and matzo meal dumplings);
• 'Baccala al Pomodoro': a special cod, dried by cold air and wind on wooden racks called in Venice 'Baccalà Stoccafisso': cooked with tomatoes and served with polenta;
• 'Fagiolini in umido' Green Beans in tomato sauce or Eggplants in tomato sauce;
• Sweet and Sour 'Eggplant Caponata';
• Latkes with Apple Sauce and/or Sour Cream;
• 'Fondi di carciofo' Venetian Jewish Style Artichokes Bottom with Garlic and Parsley
• 'Fegato alla Veneziana' Calf's Liver in Venetian Jewish style: with calf liver, onion, raisins, pine nuts;
• Venetian-Jewish Deep Fried Artichokes ('carciofi fritti') or 'fiori di zucca fritti' a delicious deep fried stuffed Zucchini Flowers;
DESSERTS
• Almond Cookies Ricciarelli;
• 'Bisse dei Ebrei' (Jewish Snakes shaped cookies);
• the Venetian Jewish 'Impade' (cookies filled with almond paste - a very traditional Purim sweet dolci);
• 'bollo' a soft long shaped bread with flour, raisins, eggs and sugar;
• 'frittelle';
• 'galani';
• Venetian Jewish Haroset;
• Cheese blintzes (thin pancakes with a delectable cream cheese filling);
• Honey Cake;
• Venetian Jewish Carrot Cake;
• Ricotta Cheesecake;
• the Venetian Pumpkin Cake and much more
Location: Veneto region - Venice area - Italy
Taught only in English.
WHO DOESN'T: Strict Kosher seekers. Please note: on demand this class can include kosher ingredients at an extra cost but our kitchen is not kosher.
Now we have nothing to say but wish you buon appetito bete'avòn תיהנו מארוחה !!
Our Italian Jewish Cooking or Venetian Jewish Cooking Classes are only upon request by email or on whatsapp.
Remember that we offer Jewish Cooking Classes for one day or for a week long cooking course, only for small groups (maximum 8-10 people), so asap book a Jewish Cooking Class.

How to get in touch with Mama Isa's Cooking School?
Whether you want to enquire about our cooking classes, have special dietary needs, want to organize something special or anything else, please just contact us and we will get back to you within 24 hours.
SEND US AN EMAIL for cooking class inquiries, questions, informations, suggestions or collabs!
Click here ---->

to send us an email: isacookinpadua [at] gmail.com
CHAT WITH US ON WHATSAPP!
Click here to chat with us with Whatsapp----->.

or CALL US BY PHONE with WHATSAPP +39 351 576 74 93
A last thing: if you don't find our mail reply in your inbox within 72 hours, please check your junk mailbox or contact us soon again. Whatsapp is more convenient, but you can email us again, of course!
We accept last minute requests.
We have more than 500 hundreds 5-star reviews. Click the image below to see our reviews.
A LITTLE BIT OF HISTORY
History of the Jews in Venice
The presence of Jews in the Veneto region and in particular in Venice is documented from the 10th Century.
According to the tradition Jews arrived in Venice, because Venice was one of the greatest trading business centres between East - Middle East and West.
Venice was one of the most important port city and the capital of a splendid maritime empire and was one of the most advanced and best-administered states in the world, and modern in tolerance. Venice was known as a multi-ethnic city.
'La Serenissima' was willing to tolerate the passage of Levantine merchants and Ashkenazi moneylenders. The Jews were members of the rising merchant class.And they were very well integrated.
As the city developed into an incredible maritime empire, the demographic and social structure diversified.
Venice was inhabited by a number of different groups. From merchants to specialized workers, the urban texture was a large mosaic made up of a very diversified population.
Waves of immigrants (Armenians, Albanians, Slavs, Turks, Georgians, Circassians, Hungarians, Bulgarians, Russians, Persians and merchants from other Italian or European lands, and of course Levantine Jews and Ashkenazi moneylenders) fleeing from the eastern and western countries flocked to Venice before and after the fall of Constantinople (1453).
Historical research has given the lie to the claim that the Jews were a constant presence in Venice in the early Middle Ages.
The Jews seem to have constituted between 1 per cent and 2 per cent of the total population, and have constituted the third largest group of foreigners in Venice, after the Greeks and the Germans.
Only in 1516 (March 23rd) the Venetian Republic obliged the Jews to live in a small area of Venice - where copper was thrown and melted (gittata and therefore 'geto' in Venetian language) and they were obliged to wear a sort of sign of identification and to manage the city's pawnshops at rates estabilished by the Venetian Serenissima. Many other regulations were included, in exchange for which the Jews Community was granted the protection in the case of war and the freedom to practice its faith. The establishment of the 'ghetto' was an outcome of the city planning process.
Jews – at least in Venice – similarly to Albanians, Turks and Greeks, were positioned on the margins of the city, away from the centre, according to the logic of spatial marginality. This marginality was implemented in order to discipline and control cultural, religious, and ethnic diversity.
The religion played a major role in the process of urban and social marginalization. The same fate occurred to the Turks, who would only be permitted an independent fondaco (Fondaco dei Turchi) in 1621, but never succeeded in receiving permission for a public space for worship.
In contrast to Protestants or Muslims, Jews were allowed a public space for their religious service. And this is how the first 'ghetto' within Catholic lands was born.
The Jews were the most controlled and restricted minority in Venice, and from 1516 until the end of the Venetian Republic – 1797 - in compulsory, enclosed and segregated quarters.
About Mama Isa's Family
Chef Isa says: "My mother's side of the family came from Spain. The records showed my ancestors were Sephardic Jews. My mother's side surname is Sephardic. Jews were persecuted during the Spanish Inquisition and exiled in the year 1492. Queen Isabella expelled all the Jews whom the Inquisition had failed to convert to Catholicism. The Sephardim - as they were called - settled in many countries and of course in my beautiful hometown Venice."
Venice constituted an attractive destination for Jews desiring to leave the Iberian peninsula (a lot of Sephardic Jews took refuge in Venice after the expulsion).