Our Pasta Making Classes are only UPON REQUEST. If you are interested in joining our Pasta Cooking Class (3-4 hours) or a pasta cookery course (3 day-long or 6 day-long), please check our availability by email and process your application as soon as possible. Remember that we offer pasta cooking classes or long pasta course only for small groups (but maximum 8-10 people), so asap book a pasta class.
Pasta Making Workshop at Mama Isa's Cooking School Venice Italy
Our long pasta course (3 days or 6 days) is aimed at home cooks who want to immerse themselves in the world of fresh pasta making. During this course you will master the fundamental skills required to create a wide range of classic Italian Pasta Dishes. You will learn to make classic fresh pastas such as tagliatelle, fresh spaghetti, pappardelle, , and master the art of stuffed pasta dishes with classic ravioli, tortellini, agnolotti, cappellacci....as well as special fillings and working with different pasta tools. You will also learn to apply the precise and delicate decoration and presentation techniques that will elevate your pasta art to an impressive level. By the end of the course you will have a good repertoire of recipes and the confidence to create some stunning dishes. Please Note: Lunch is provided each day.
SKILLS YOU WILL LEARN
Fresh Pasta Doughs
Kneading of Doughs
Rolling the fresh pasta not only with the manual pasta machine but sometimes with the traditional long pasta rolling pin. Look how to roll the fettuccine only with a rolling pin click here
Pasta Fillings
TYPICAL RECIPES Pasta fresca all'uovo (FRESH EGG PASTA), Potato Gnocchi, Ricotta Gnocchi, Fettuccine, Agnolotti, Lasagne, Tagliatelle, Spaghetti alla Chitarra, Cavatelli, Bigoli, Tortellini, Gnocchi with Ricotta, Angel Hair Pasta, Corzetti......
To contact Mama Isa, please click the link ---> CONTACT US or by phone send a text (our mobile is +39 339 2672571) or send us an email, click --->HERE
We are all used to communicate with our friends via WhatsApp. Chat with us via Whatsapp +39 339 26 72 571 - +39 is the Italy code - For Cooking Course Bookings and Enquiries Only.
Contact us soon with WHATSAPP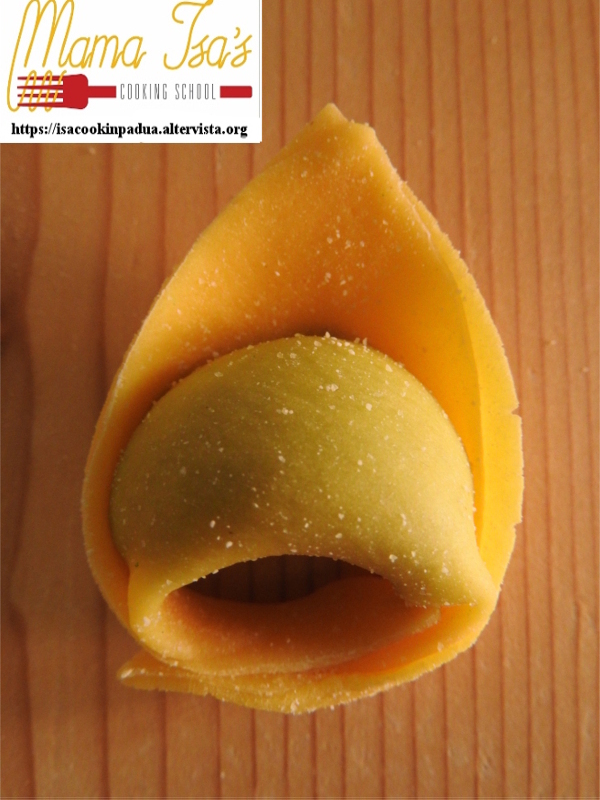 Mama Isa is a sfoglina (pasta maker): she uses to make fresh pasta with eggs every day for her family and for her guests! Mama Isa's Pasta Class: the place to find authentic and richly flavored fresh pasta handmade.
Pasta Making is an integral part of identity and intangible heritage in Italy!