A Week Cooking Course in Italy | Mama Isa's Cooking School Venice Italy
Six Day Cooking Classes in Italy
An Intense Weekly Culinary Program
Read our Reviews on Google about Mama Isa's Cooking School
Mama Isa's Week Cookery Course: ideal for travelers wishing to learn the essentials of Italian cooking. Exclusive Week Cooking School Holiday in Northern Italy in Venice area. Completely hands-on and in English.

Week Cooking Course in Italy, near Venice - Our one week course (6 cooking classes and accomodation) is perfect for those wishing to immerse themselves in a cooking holiday in Italy. This is Mama Isa's best cooking course. We accept not-cooking guest. At the end of each cooking lesson, you will sit down and enjoy the meal with drinks or wine pairings.
The Cooking Course is taught in English and length is about 4-5 hours per day. Mama Isa, your Cooking Class Instructor, can offer you a private cooking course of 6 days (please tell me your cooking interests: fresh pasta, pizza from scratch, lasagna, ravioli, fettuccini, bread baking, sauces, desserts, tiramisu, panna cotta....).
All our Culinary Week Courses are available on request for any day, year round, based upon availability. Don't hesitate to contact the Cooking School.
The classes are for cooks of all levels or for foodies and the course is ideal for learning some of the best Italian recipes.
It is also possible to bring along a non-participating partner who can join you at lunchtime or dinnertime.
Program: 6 days - Monday to Saturday or Sunday to Friday (or Friday to Wednesday - or Saturday to Thursday or other days UPON REQUEST BY email). Please don't hesitate to contact us to ask if we have availability.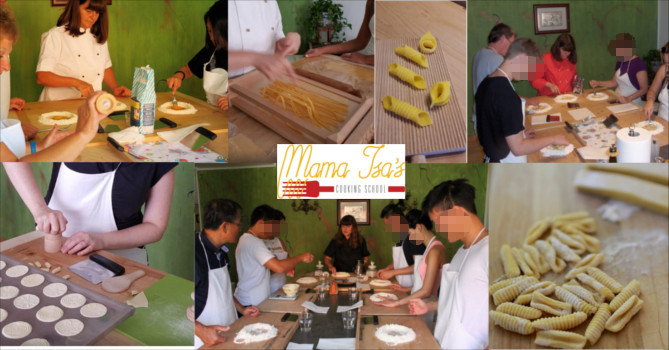 HERE ARE SOME DISHES YOU WILL LEARN FROM SCRATCH (usually every day you learn how to cook from scratch 3-5 recipes):
HANDMADE PASTAS: Tagliatelle / Fettuccine - Homemade Penne - Ricotta Gnocchi-Tagliolini- Angel Hair - Pappardelle - Maltagliati - Strozzapreti- Potato Gnocchi- Spinach Gnocchi - Lasagne - Cannelloni - Crespelle with Spinach and Ricotta - Tortelloni - Tortellini - Ravioli - Gnoccone (a sort of Potato Gnocchi Roll) - Baked Pasta - Maccheroni or Tonnarelli alla Chitarra - Corzetti
SAUCES: Bolognese Sauce - Cacio e Pepe Sauce - Sausages Tomato Sauce - Duck Ragu - Carbonara Sauce - Arrabbiata Sauce - Puttanesca Sauce - Clam Sauce - Amatriciana Sauce - White Sauce Bechamel- Marinara Sauce - Mussels Sauce - Buzara Sauce

STUFFINGS FOR PASTA: Ricotta and Spinach - Potatoes and Parmigiano Reggiano - Pumpkin Zucca and Amaretti Cookies - Traditional Tortellini Meat Stuffing with Prosciutto Crudo di Parma, Mortadella, Parmigiano Reggiano cheese
RISOTTOS : Asparagus Risotto - Tomato Risotto - Porcini Mushroom Risotto - Chianti Risotto - Risotto alla Milanese (with Saffron) - Risotto with Radicchio - Gorgonzola Risotto - Sausages Risotto - Artichokes Risotto - Zucchini Risotto - Clam Risotto - Shrimp Risotto - Seafood Risotto
SOUPS: Potatoes and Mushroom Soup - Onion Soup - Pasta and Borlotti Beans - Chickpeas Soup - Minestrone HOUSE PATE: Tuna Pate - Salmon Pate - Seafood Pate - Chicken Liver Pate - Rabbit Pate - Smoked Salmon and Mascarpone Pate - Artichokes Pate - Asparagus Pate
SALADS & VEGETABLE: Artichokes, Asparagus, Radicchio, Salad, Puntarelle, Kale, Swiss Chard, Eggplants, Fennel,.....
MAIN COURSES: Beef Stew - Veal Stew (Spezzatino)- Pork Sirloin In Milk Sauce - Meatball Polpette in Venetian style - Fennel Tart with Bechamel - Spinach Flan- Potato Sformato - Involtini di Pollo - Seafood and Shellfish (Branzino, Orata, Seascallops in their shells, Mussels, Clams, Fresh Octopus, Fresh Anchovies), Chicken in Hunter's style

BREAD & PIZZA: Bruschetta - Pane Homemade Bread - Panini - Stuffed Panini - Grissini - Focaccia (With Different Servings)- Pizza (With Different Seasonings) - Puccie - Farinata with Chickpea Flour - Panzerotti - Piadina - Torta al Testo
DESSERTS: Almond Biscotti - Tiramisu - Zuppa Inglese - Chocolate Mousse - Ricotta Tart Pie - Ricotta Cake - Apple Cake - Zabaglione - Venetian Biscotti - Ciambella della nonna - Yogurth Cake
Learn to cook the Italian food that you'll love to eat.
Only a few spaces on our 6 day cooking course.
To contact Mama Isa, please click the link ---> CONTACT US or by phone send a text (our mobile is +39 339 2672571) or send us an email, click --->HERE
We are all used to communicate with our friends via WhatsApp. Chat with us via Whatsapp +39 339 26 72 571 - +39 is the Italy code - For Cooking Course Bookings and Enquiries Only.
Contact us soon with WHATSAPP
Accomodation: we are so glad to accomodate you so contact us as soon as possible and we will send you more details.
A Week Cooking Course Includes:
1- Historical Explainations About Italian Regional Food, Culture and History
2- 6 Hands-On Lessons (every day 4-5 hours) in English
3- Professional Cooking Class Teacher
4- Lunch every day with the fruit of the cooking class
5- Wine and other beverages at lunch
6- Recipes (an electronic copy)
7- Wine Tastings
8- Mama Isa's Graduation Certificate
9- Accomodation: 5 nights (upon request 6 nights or more)
10- Food Market Tour (Padua Food Markets are the oldest food markets in the world 1218-2018! 800 years old)
**********************

WHAT'S INCLUDED:
- Daily espresso coffee or tea or cappuccino and cookies at the Mama Isa's Cooking School (at 09:30 am) before starting the cooking class
- A large, healthy meal (lunch and wine and drinks) per day in the Mama Isa's Cooking School (during the cooking classes)
- All scheduled 6 cooking classes (every morning at 10:00 am - The classes are 4-5 hours daily)
- A recipe booklet
- Cooking certificate
- Free wifi at the cooking school
- Accommodation (5 nights or more nights)
WHAT'S NOT INCLUDED:
- International flights and visas
- Arrival and departure airport transfers (but we can help you with important information how to get here; the best airport is Venice, and from Venice you can take a shuttle bus and in only 45 minutes you are here!)
- Tipping - an entirely personal gesture
- Laundry service
- Local car hire
- Drinks, items of a personal nature
- Travel insurance
- Any other services or activities not stated in the program
- Cookery classes are upon request and subject to availability. Price: on request.
You can get personalized attention and individual instruction from the Chef and the atmosphere is always friendly, fun, relaxed and warm to make you feel comfortable and at home!
Our Cooking Classes are based in Venice Northern Italy, in the region Veneto.
The menu will be adapted on your tastes and the cooking lessons are completely HANDS-ON.

For any further questions (for example about other dishes or other cooking class options), don't hesitate to ask me!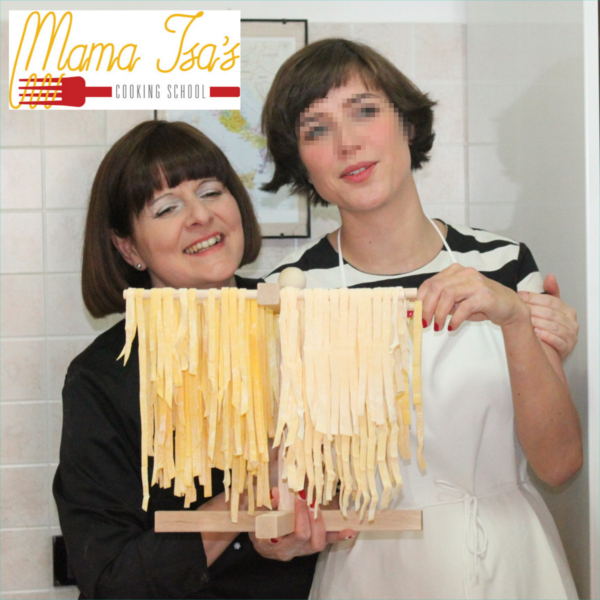 Mama Isa offers not only 6 day Cookery Courses but also 2 or 3 or 4 or 5 days. So please email us about a short cookery course with Mama Isa.
She is always pleased to design just the right COOKING PROGRAM to meet your specific cooking goals.
Two and three, or four or five days cooking lessons and cookery course long weekends at a well equipped homey cookery school in Venice area Italy.
Our 2, and 3-DAY COOKERY COURSES or 4, and 5-DAY COOKING COURSE are run on Friday, Saturday, and Sunday or another dates UPON REQUEST. Available January to December - Monday to Sunday.
Learn to cook typical Italian Cuisine. Please remember OUR COOKING LESSONS are held all year round upon request: so please contact by email Mama Isa as soon as possible.
Kids can easily take part to our COOKING CLASSES as we have great experience in making them feel comfortable with cooking!
Please email us as soon as possible with your cooking request!