A Week Long Cooking Course in Italy | Mama Isa's Cooking School
We offer a cooking course for a week about the art of Regional Italian Cooking
An Intense Weekly Culinary Program in Northern Italy Veneto Region
One of the Best Learning Holidays in Italy
Due to the current Coronavirus / Covid-19 pandemic, we are now offering PRIVATE WEEK LONG COOKING COURSES.
Please know that we are taking extra precautions to keep our customers, staff, instructor, and assistants safe. As we restart our cooking classes, we are requiring additional protocols and everyone's commitment to group safety.
We have reduced our class sizes and we are requiring face masks for class participants, instructor, and class assistant.
The cooking experience will be only for you and your group (minimum 2 people maximum 6), we only offer private week long cooking courses to guarantee an exclusive, unique hands-on experience.
On demand it is possible a one-on-one cooking class!
We are sanitizing, washing, disinfecting all tools, work stations and equipment before class and throughout class as appropriate.
This Week long Cooking Course is is for those who want an immersive cooking experience of learning to cook at Mama Isa's Cooking School.
An immersive cooking course offers a glimpse of life, culture, history and cooking with us, so you will learn new cooking skills ("cucinare").
The joys of traveling in Italy and learning about the authentic Italian Cuisine.
Our guests enjoy being treated to an interactive week long cooking course from our chef Isa whose creativity knows no boundaries.
Our cooking school have responded by providing week long sessions where guests can learn every day various culinary techniques and recipes from scratch.
THINGS YOU WILL LEARN DURING THE WEEK LONG COOKING COURSE
During the week long cooking course you will learn a very wide range of cooking techniques and lot of Italian Regional Recipes from scratch.
Below is a very small selection of the exciting things you can expect to learn during your week long cooking course with us.
SOME OF THE TOPICS AND TECHNIQUES THE WEK LONG COOKING COURSE COVERS
• All aspects of the culture and history of Italian Regional Cuisine;
• Hands-on training;
• Learn to make a wide range of breads from scratch;
• Learn to make pizza from scratch;
• Learn to make the famous Mama Isa's Focaccia from scratch;
• Make broths and stocks for risottos;
• Learn to make a wide range of homemade pasta, different dough, different fillings and different pasta sauces;
• Learn to use fresh herbs and spices, extra virgin olive oil...;
• How to make irresistible main course 'secondi piatti' and side dishes 'contorni';
• How to make irresistible homemade gelatos, semifreddo, tiramisu, desserts, biscotti, panna cotta and cakes;
• And lots more.
Location: Veneto region - Venice area - Italy
Mama Isa's Week Cookery Course: ideal for travelers wishing to learn the essentials of the authentic Regional Italian cooking.
Schedule of week long cooking course is made available upon your request. Please as soon as possible contact us to verify the availability for a week long cooking course.
WHY YOU SHOULD ENROLL IN A WEEK COOKING COURSE?
• To learn new skills;
• To deepen your knowledge of classic Italian Regional Cuisine;
• To explore your five senses - taste, touch, hearing, sight, and smell - as a part of the cooking process;
• To deepen your knowledge on different topics (fresh pasta from scratch, homemade bread, gelato making, pizza making.....);
• To take pleasure in feeling the texture of fresh homemade pasta, the aroma filling the kitchen, the taste of fresh vegetables and a raw tomato...;
• To immerse yourself in the local culture;
WHAT'S NOT INCLUDED:
- International flights and visas
- Arrival and departure airport transfers (but we can help you with important information how to get here. The best internationl airport is Venice MARCO POLO, and from Venice you can take a shuttle bus and in only 45 minutes you are here!) or TREVISO airport or VERONA airport.
- Tipping - an entirely personal gesture
- Laundry service
- Local car hire
- Drinks, items of a personal nature
- Travel insurance
- Any other services or activities not stated in the program
- Cookery classes are upon request and subject to availability. Price: on request.
Itinerary for the One Week Italian Cooking Vacation
Sample Program of Our Weekly Culinary Course
Day 1
Check in - Arrival in the morning to the Mama Isa's Cooking School and after the first cooking class (every cooking class is hands on and it lasts about 4-5 hours). After the class free afternoon to visit the town or relax. Dinner Free.
Day 2
Second Cooking Class at 10:00 am - This day we have designed to give you an introduction to the Regional Italian Cooking and about Italy, it's people, history and the culture. Free afternoon to relax. Dinner Free.
Day 3
Third Cooking Class at 10:00 am - Free afternoon to relax. Dinner Free.
Day 4
Visit the famous Mercato di Padova (Sotto il Salone and Piazza delle Erbe and Piazza dei Frutti). The oldest market in the world (1218-2019). Chef Isa will guide you through the market and the downtown of Padova. Breakfast at the market with lovely cappuccino or espresso and pastries included. Afternoon and Dinner free.
Day 5
Fourth Cooking Class at 10:00 am. Free afternoon to relax. Dinner Free.
Day 6
Fifth Cooking Class at 10:00 am - After the lesson farewell and goodbye (Check out). But if you need an extra night we can offer you an extra night on demand.
Every cooking class you will learn how to make authentic Italian Meals: starters, first and main courses, vegetables to desserts from the authentic Regional Italian Cooking.
Possible one or two extra night in the accommodation. So you can arrive the day before the first cooking class, and say goodbye the day after the last cooking class.
Cookery classes are upon request and subject to availability.
Come to learn the fundamentals of Italian Regional Cuisine in Italy, become more familiar with food terms, learn how to make pastas, homemade breads, main courses, veggie dishes, and delicious desserts! Book a week long cooking course soon.

How to get in touch with Mama Isa's Cooking School?
Whether you want to enquire about our cooking classes, have special dietary needs, want to organize something special or anything else, please just contact us and we will get back to you within 24 hours.
SEND US AN EMAIL for cooking class inquiries, questions, informations, suggestions or collabs!
Click here ---->

to send us an email: isacookinpadua [at] gmail.com
CHAT WITH US ON WHATSAPP!
Click here to chat with us with Whatsapp----->.

or CALL US BY PHONE with WHATSAPP +39 351 576 74 93
A last thing: if you don't find our mail reply in your inbox within 72 hours, please check your junk mailbox or contact us soon again. Whatsapp is more convenient, but you can email us again, of course!
We accept last minute requests.
When a booking is confirmed for one or two people or more people, it does not guarantee a private cooking course, only that you will have a guaranteed space in that cooking course.
If you are interested about a PRIVATE COOKING COURSE, please don't hesitate to email us and to ask this special and private option!
We have already received 760 five-star reviews. Click the image below to see our reviews.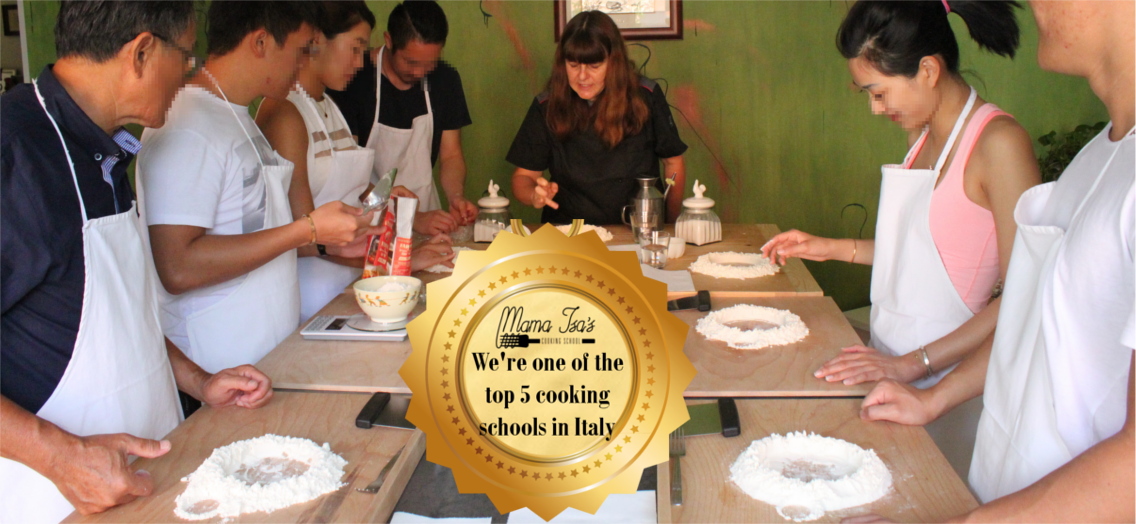 Week Cooking Course in Italy, Veneto region
Our one week cooking course (five (5) cooking classes, 1 (one) day food market tour and accommodation included, or we have an option without accommodation).
Perfect for those wishing to immerse themselves in a cooking holiday in Italy.
We accept not-cooking guest.
The Cooking Course is taught only in English and length is about 4-5 hours per day.
Mama Isa, your Cooking Class Teacher and Chef, can offer you a private week long cooking course (please tell us your cooking interests: fresh pasta, pizza from scratch, lasagna, ravioli, fettuccini, bread baking, sauces, desserts, tiramisu, panna cotta....).
All our Culinary Week Courses are available on request for any day, year round, based upon availability.
Don't hesitate to contact the Cooking School.
The classes are for cooks of all levels or for foodies.
The course is ideal for learning some of the best Italian Regional Recipes.
PROGRAM
Week long- Monday to Saturday or Sunday to Friday (or Friday to Wednesday - or Saturday to Thursday or other days UPON REQUEST BY email). Please don't hesitate to contact us to ask if we have availability.
HERE ARE SOME DISHES YOU WILL LEARN FROM SCRATCH (usually every day you learn how to cook from scratch 3-5 recipes)
HANDMADE PASTAS: Tagliatelle / Fettuccine - Homemade Penne - Ricotta Gnocchi-Tagliolini- Angel Hair - Pappardelle - Maltagliati - Strozzapreti- Potato Gnocchi- Spinach Gnocchi - Lasagne - Cannelloni - Crespelle with Spinach and Ricotta - Tortelloni - Tortellini - Ravioli - Gnoccone (a sort of Potato Gnocchi Roll) - Baked Pasta - Maccheroni or Tonnarelli alla Chitarra - Corzetti
SAUCES: Bolognese Sauce - Cacio e Pepe Sauce - Sausages Tomato Sauce - Duck Ragu - Carbonara Sauce - Arrabbiata Sauce - Puttanesca Sauce - Clam Sauce - Amatriciana Sauce - White Sauce Bechamel- Marinara Sauce - Mussels Sauce - Buzara Sauce

STUFFINGS FOR PASTA: Ricotta and Spinach - Potatoes and Parmigiano Reggiano - Pumpkin Zucca and Amaretti Cookies - Traditional Tortellini Meat Stuffing with Prosciutto Crudo di Parma, Mortadella, Parmigiano Reggiano cheese
RISOTTOS : Asparagus Risotto - Tomato Risotto - Porcini Mushroom Risotto - Chianti Risotto - Risotto alla Milanese (with Saffron) - Risotto with Radicchio - Gorgonzola Risotto - Sausages Risotto - Artichokes Risotto - Zucchini Risotto - Clam Risotto - Shrimp Risotto - Seafood Risotto
SOUPS: Potatoes and Mushroom Soup - Onion Soup - Pasta and Borlotti Beans - Chickpeas Soup - Minestrone HOUSE PATE: Tuna Pate - Salmon Pate - Seafood Pate - Chicken Liver Pate - Rabbit Pate - Smoked Salmon and Mascarpone Pate - Artichokes Pate - Asparagus Pate
SALADS & VEGETABLE: Artichokes, Asparagus, Radicchio, Salad, Puntarelle, Kale, Swiss Chard, Eggplants, Fennel,.....
MAIN COURSES: Beef Stew - Veal Stew (Spezzatino)- Pork Sirloin In Milk Sauce - Meatball Polpette in Venetian style - Fennel Tart with Bechamel - Spinach Flan- Potato Sformato - Involtini di Pollo - Seafood and Shellfish (Branzino, Orata, Seascallops in their shells, Mussels, Clams, Fresh Octopus, Fresh Anchovies), Chicken in Hunter's style

BREAD & PIZZA: Bruschetta - Pane Homemade Bread - Panini - Stuffed Panini - Grissini - Focaccia (With Different Servings)- Pizza (With Different Seasonings) - Puccie - Farinata with Chickpea Flour - Panzerotti - Piadina - Torta al Testo
DESSERTS: Almond Biscotti - Tiramisu - Zuppa Inglese - Chocolate Mousse - Ricotta Tart Pie - Ricotta Cake - Apple Cake - Zabaglione - Venetian Biscotti - Ciambella della nonna - Yogurth Cake
Learn to cook the Italian food that you'll love to eat.
Only a few spaces on our week long cooking course.
We are so glad to accommodate you so contact us as soon as possible and we will send you more details.
Contact us as soon as possible to know what's included or not included!
You can get personalized attention and individual instruction from the Chef and the atmosphere is always friendly, fun, relaxed and warm to make you feel comfortable and at home!
Our Cooking Classes are based in Venice area - Northern Italy, in the region Veneto.
The menu will be adapted on your tastes and the cooking lessons are completely HANDS-ON.

For any further questions (for example about other dishes or other cooking class options), don't hesitate to ask me!
Mama Isa offers not only Week Long Cookery Courses but also 2 or 3 or 4 or 5 days. So please email us about a short cookery course with Mama Isa.
She is always pleased to design just the right COOKING PROGRAM to meet your specific cooking goals.
Two and three, or four or five days cooking lessons and cookery course long weekends at a well equipped homey cookery school in Venice area Italy.
Our 2, and 3-DAY COOKERY COURSES or 4, and 5-DAY COOKING COURSE are run on Friday, Saturday, and Sunday or another dates UPON REQUEST. Available January to December - Monday to Saturday.
Learn to cook typical Italian Cuisine. Please remember OUR COOKING LESSONS are held all year round upon request: so please contact by email Mama Isa as soon as possible.
Kids can easily take part to our COOKING CLASSES as we have great experience in making them feel comfortable with cooking!
Please email us as soon as possible with your cooking request!
We will help you during your staying with us and we will help you how to get here from your arrival airport to the cooking school and for your departure (shuttle service)
Week Long Cooking Course in Italy
>