3 Day Cooking Course | Mama Isa's Cooking School Venice Italy
Take a 3 day cooking vacation with us and learn how to cook like an Italian chef.
Cooking Vacations in Italy: experience the art of Italian Regional Cooking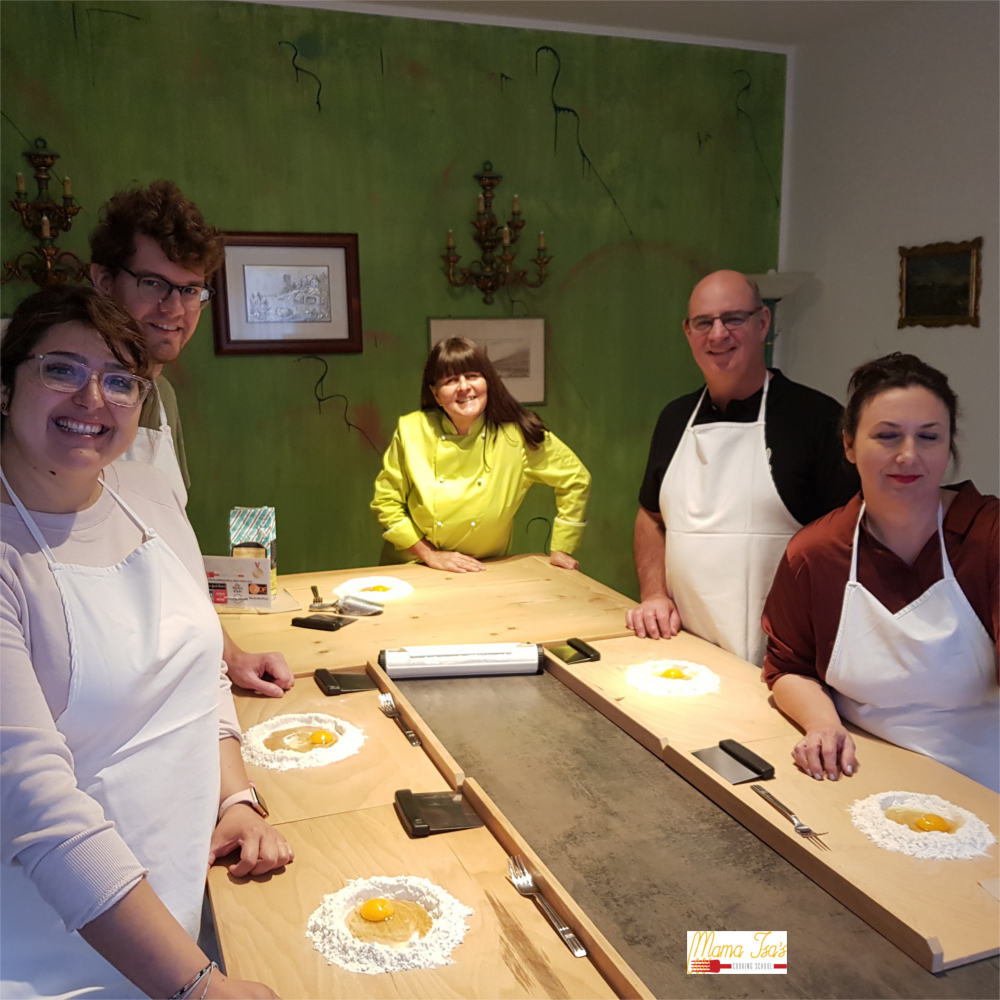 Due to the current Coronavirus / Covid-19 pandemic, we are now offering PRIVATE 3 DAY COOKING COURSES.
Please know that we are taking extra precautions to keep our customers, staff, instructor, and assistants safe. As we restart our cooking classes, we are requiring additional protocols and everyone's commitment to group safety.
We have reduced our class sizes and we are requiring face masks for class participants, instructor, and class assistant.
The cooking experience will be only for you and your group (minimum 2 people maximum 6), we only offer private 3 day cooking classes to guarantee an exclusive, unique hands-on lessons.
On demand it is possible a one-on-one cooking class!
We are sanitizing, washing, disinfecting all tools, work stations and equipment before class and throughout class as appropriate.
Why You Should Take a 3 Day Cooking Course on your Next Trip?
• Taking our 3 day cooking course can help you gain the cooking experience or professional skills;
• Our 3 day cooking course is a very hands-on training;
• You'll learn about the culture and history of Italian Food;
• A 3 day cooking course can give you the opportunity to try new fantastic flavors and new healthy food;
• Every day you will learn different recipes;
• Researches indicate that nutrition knowledge is not complete without hands-on cooking experiences associated with food preparation that involves cooking education and handling food;
• Your cooking course can build positive holiday memories;
• You will learn the importance of the Italian Diet Secrets: eating more vegetables, fuirts, nuts, seeds, more whole grains, legumes, fish, organic food and eating less red meat;
• You will learn the real Italian Diet, very different from what you see on an American-Italian Restaurant menu or English-Italian Restaurant;
• The Importance of balance quality and quantity: in Italy we simply balance the quantity of foods and quality ― first not too much fat, just a very little red meat, lots of fish, sometimes chicken, turkey, and other healthy meat like guinea fowl or rabbit, and just enough carbohydrates;
• You will use more unsaturated fat (extra virgin olive oil) than saturated fat (butter, palm oil, bacon fat, etc). Extra Virgin Olive Oil is the preferred one and we will use extensively in cooking and on salads;
• You will use the freshest ingredients we can, of course always in-season.
Do you want to spend a few days of authentic Italian Regional Cooking into your own vacation in Italy?
3-Day Cooking Course in Venice area Veneto region - Northern Italy.
Our Cooking Course is taught in English and length is about 4-5 hours per day.
Mama Isa, the Chef and Cooking Class Teacher, will offer you a cooking course of 3 days (accomodation-included).
We cater to a maximum of only 10 people per program. We want this to be a personalized cooking experience for you!
Location: Veneto region - Venice area - Italy
The cooking classes are for cooks or for students of all levels and the 3 day cooking course is ideal for learning a few of the best authentic and traditional Italian Regional Recipes from scratch.
This 3 day cooking program is suited to the more independent travellers wanting free time after cooking.
SAMPLE MENUS
FIRST DAY AND COOKING CLASS: 1) Antipasto - Starter: Homemade Focaccia from scratch served with delicious cold meat prosciutto and Italian cheeses; 2) Primo Piatto: fresh egg pasta from scratch Tagliatelle-Fettuccine or another delicious fresh pasta from scratch; 3) Pasta sauce from scratch; 4) Secondo Piatto - Main Course: chicken in Hunter's style or chicken rolls Involtini di Pollo with prosciutto and sage or fish and seafood 5) Contorno - Side Dish: vegetables or salad; 6) Dessert - Dolce: Tiramisu or classic Tiramisu or Limoncello Tiramisu o another dessert.
SECOND DAY AND COOKING CLASS: 1) Antipasto - Starter: a very authentic Italian antipasto Bruschettas; 2) Primo Piatto: fresh pasta from scratch Cavatelli or Corzetti or Venetian Bigoli or Potato Gnocchi or Ravioli or another delicious fresh pasta from scratch; 3) Pasta sauce from scratch; 4) Secondo Piatto - Main Course: Saltimbocca alla Romana (Veal Cutlets in Roman style with Prosciutto and Sage) or Veal Stew Spezzatino di Vitello or Beef Stew 5) Contorno - Side Dish: vegetables or salad; 6) Dessert - Dolce: Panna Cotta served with fruit or berries coulis, or Tart filled with Crema pasticcera, or Chocolate Torta Caprese, or Almond iscotti Cantuccini.
THIRD DAY AND COOKING CLASS: or Pizza Class + Gelato Class or 1) Antipasto - Starter: a very authentic egg Frittata or deep fried stuffed zucchini flowers or bruschetta or another authentic and traditional Italian antipasto; 2) Primo Piatto: fresh pasta from scratch Homemade Spaghetti alla Chitarra by hand with Carbonara Sauce or Cacio e Pepe sauce or Amatriciana sauce or Puttanesca sauce or another delicious fresh pasta from scratch; Secondo Piatto - Main Course: Ossobuchi alla Milanese (Veal Shanks in Milanese style) or Veal Cotoletta alla Milanese or Meatballs in Venetian Style; Contorno - Side Dish: vegetables or salad; Dessert - Dolce: Mama Isa's Family Recipe Dark Chocolate Mousse or Salame di Cioccolato or Venetian Biscotti Zaletti or Crostata or Venetian Zabaione al caffè or with dop dried marsala wine.
This 3 Day Cooking Course Includes:
- Historical Introduction About Italian Regional Food, Food History and Italian Culture;
- Three Hands-On Cooking Lessons in English;
- An electronic copy of the recipes;
- accommodation for 3 nights (or 4 nights or 5 on demand): but it is possible without accommodation.
Chef Isa is very flexible and available, so if you prefer to learn other recipes or other skills, please send an email! We can offer a 3 day PASTA WORKSHOP or 3 day COOKING COURSE about the Italian Cooking!
The cooking course is completely HANDS-ON, not a demonstration.
Not-cooking guests and family can take part to the 3 DAY Cooking Courses because we has great great experience in making you feel comfortable with cooking!!!!!
Reserve your 3 day cooking course soon!
The 3 Day Cooking Course are available on request for any day, year round, based upon availability. If you are a Solo Traveller please don't hesitate and contact us.

How to get in touch with Mama Isa's Cooking School?
Whether you want to enquire about our cooking classes, have special dietary needs, want to organize something special or anything else, please just contact us and we will get back to you within 24 hours.
SEND US AN EMAIL for cooking class inquiries, questions, informations, suggestions or collabs!
Click here ---->

to send us an email: isacookinpadua [at] gmail.com
CHAT WITH US ON WHATSAPP!
Click here to chat with us with Whatsapp----->.

or CALL US BY PHONE with WHATSAPP +39 351 576 74 93
A last thing: if you don't find our mail reply in your inbox within 72 hours, please check your junk mailbox or contact us soon again. Whatsapp is more convenient, but you can email us again, of course!
We accept last minute requests.
We have more than 500 hundreds 5-star reviews. Click the image below to see our reviews.