Vegetarian Cooking Classes | Mama Isa's Cooking School Venice Italy
Our School offers vegetarian cookery workshops for leisure and professionals in Italy.
Join us for a hands-on Vegetarian Making Experience Workshop (4 hours) at Mama Isa's Cooking School in Venice Italy: some of themost delicious vegetarian recipes in Italy.
A vegetarian menu
1- ANTIPASTO: or Caprese Salad (with Buffalo Mozzarella,Tomatoes, Oregano, Evoo, and fresh basil leaves) or Zucchini Blossoms stuffed with mozzarella cheese (or without mozzarella) and fried with Italian Tempura Vegetables or Focaccia from scratch with Red Onion, Cherry Tomatoes, oregano, evoo, and rosmarine or Asparagus and eggs or Crostone - Bruschetta in Roman style with chopped fresh Tomatoes, Basil leaves, Oregano, Garlic and Evoo or Bread homemade from scratch (braid bread Treccia di Pane from scratch) or another type of bread (i.e. Italian Bread with Olives) or flatbread (Torta al testo, a delicious flatbread from Umbria region, filled with Tomatoes and Buffalo Mozzarella, or Spinach and Gorgonzola cheese or Stracchino cheese);
2- PRIMO PIATTO: or Risotto with Peas ("Risi e Bisi" in Venetian style) or Risotto Asparagus or Risotto with Spinach or Risotto with Zucchini or Risotto with Porcini Mushrooms or Penne all'Arrabbiata or Penne alla Puttanesca or Ziti with Cherry Tomatoes, Capers, evoo, parsley, and garlic or Pesto sauce or "Dried Tubular Pasta Penne alla Norma" (with fried eggplants, tomato sauce, Ricotta Salata cheese or without ricotta and basil) or Vellutata di Asparagi (a delicious asparagus soup) or Vellutata di Porcini (with Wild Porcini Mushroom) or "Caponata" (a fantastic dish from Sicily that's eaten as a warm vegetable side dish or a cold antipasto, with fried eggplants, cappers, tomatoes, green olives and vinegar) or Dried Spaghetti with Four Cheese (Asiago cheese, Gorgonzola cheese, Parmesan cheese and Taleggio cheese) sauce or another delicious "primo piatto" with dried pasta (with a good vegetarian sauce) or Classic Minestrone;
3 – SECONDO PIATTO/ CONTORNO: or "Segole in dolsegarbo - Cipolle in dolsegarbo" (Braised Onions with red Vinegar, sugar, raisins, pine nuts and evoo)
, or braised baby Peas or Grilled Eggplants with parsley, evoo, and garlic or Insalata Mista all'italiana with Tomatoes, Spring Salad, Fennel, Rocket, Carrot, Celery or Salad with Mushrooms, Rocket, Parmigiano Reggiano cheese and evoo or another salad-contorno) or Fresh Strawberries with Parmigiano Reggiano cheese and Balsamic Vinegar or another contorno or Panzerotti (with pizza dough from scratch filled with Mozzarella and Tomato and fried or without Mozzarella) or Pizzette Fritte (with fried pizza dough from scratch, topped with Tomatoes and Mozzarella and Basil Leaves and Oregano);
4 - DESSERT: "Panna Cotta (with milk, gelatine, heavy cream) with Strawberry or with Italian Coffee or with shavings of Chocolate or Ricotta Custard Cream (with ricotta cheese, raisins, orange candies....) or Mousse di Cioccolato or my traidtional Tiramisu
Our Vegetarian Cooking Classes are only upon request. If you are interested in joining our vegetarian cooking class, please check our availability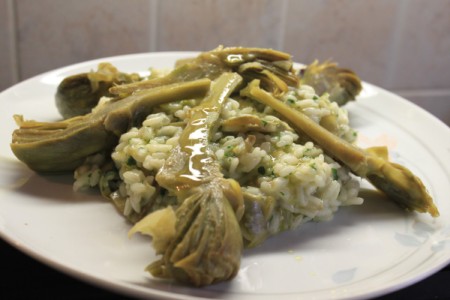 by email and process your application as soon as possible. Remember that we offer vegetarian cooking classes only for small groups (maximum 8-10 people), so asap book a cooking class. And please inquire for rates and availability.
If you don't receive an answer within 24-36 hours, it means we haven't received your message or our email is in your spam folder or junk mailbox. You can call us by phone or text us soon (our mobile is +39 339 2672571
To contact Mama Isa, please click the link ---> CONTACT US or by phone send a text (our mobile is +39 339 2672571) or send us an email, click --->HERE
We are all used to communicate with our friends via WhatsApp. Chat with us via Whatsapp +39 339 26 72 571 - +39 is the Italy code - For Cooking Course Bookings and Enquiries Only.
Contact us soon with WHATSAPP
Advance reservations are required and can be made by sending an email
isacookinpadua (at) gmail (dot) com
Only 8-10 seats.
The class is completely hands-on and the menu will be adapted on your tastes!