About Mama Isa: a Cooking Teacher (a Cooking Class Instructor) in Venice area, in the center of Padova, Veneto region Italy.
Mama Isa is a Cookery Teacher (a Cooking Class Instructor and a WORKING PASTA SPECIALIST), a Private Chef in Venice area Italy. She was born and grew up in Venice.
Now she lives in Padova. She was educated at Ca' Foscari University in Venice (Italy) where she gained her B.A. with laude and a degree in History in 1989. For many years she worked as historian and researcher.
Her friends over the years have tried to convince Isa to open a homey cooking school for people coming to Italy for a cooking holiday!
So after two decades of working, Isa decided to open her homey cooking school for travelers and Italian food lovers. She is also an Italian teacher in Venice area, in the heart of Padova, (Italy) and a working pasta specialist (called SFOGLINA, this name identifies the woman makes homemade pasta without pasta machine). She is the only-one SFOGLINA in Venice area! With Mama Isa you can learn THE ART OF MAKING HOMEMADE PASTA.
She learned about traditional Italian dishes, cooking and pasta making from her grandma Elisa, and her ma Paola, who taught her a lot of secrets of the Italian Cuisine and Gastronomy. "Food is a living tradition"!

She is an accomplished home cook and a traditional food chef. Adding her own touches, Mama Isa's recipes can be prepared in your own home.
Mama Isa's interests are on the history of food, on the traditional Italian Cooking, based on local and fresh products. Mama Isa loves cooking with local cheeses, cereals, fresh vegetables, meat, fresh shellfish and fresh fish wild-caught. As historian, she believes that the traditional Italian Food is a manifestation of intangible cultural heritage.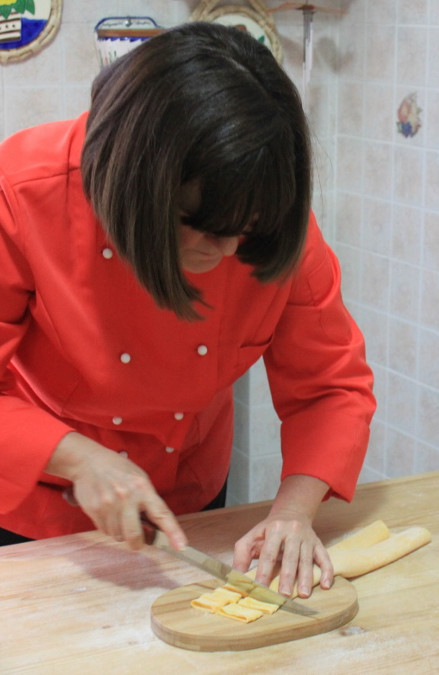 Mama Isa is determined to teach her guests basic cooking skills. She has the ability to teach guests and the ability to effectively demonstrate the science and the art of Italian Cooking.
Mama Isa says: "My duty is to transmit to the next generation everything I have learned and experienced. Teaching a cooking class is a great way to share my culinary expertise, in the spirit of sharing and hospitality! It's important to me that my guests leave my cooking classes feeling satisfied on several different levels: sight, smell, taste.
I strive to wow and impress my guests at each opportunity. One of the greatest feelings for me is to see their expressions when they take a bite of what we have prepared during the cooking class".
She loves this famous quote: "This is my invariable advice to people: Learn how to cook- try new recipes, learn from your mistakes, be fearless, and above all have fun!" - Julia Child. It's so true! She repeats this quote at her cooking classes, of course!!!!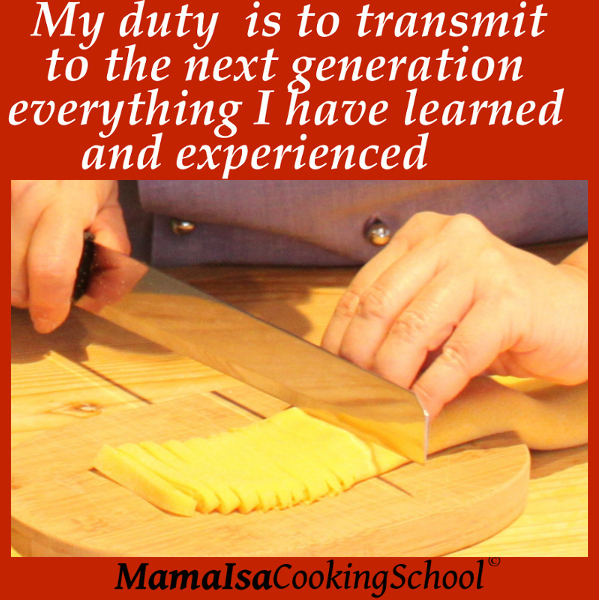 Mama Isa' Assistant

Sometimes Mama Isa is aided by Stefano,
her partner, a good wine expert and a talented assistant - sous chef.
He was born in Rome and spent many hours in his kitchen, watching his mother Antonietta (from Lazio region) and his grandmother Giuseppina (from Umbria region) prepare family dishes during his childhood. Now he works in Rome, but when he can, Stefano becomes the Mama Isa's assistant.
Videos click here
Take a look at more images and pictures from recent hands-on Cooking Classes and Cooking Parties: click here

on INSTAGRAM:
***************************************************************************
Join Our Social Networks | Mama Isa's Cooking Classes in Italy
Follow our social networks & social media:
Mama Isa's Cooking School on Facebook