Just there you can see some carvings (dated 1277): old units of measurement ("copo" for flour, "staro" for grains, "quarelo" for bricks, and "brazzo" for fabrics), used to have a point of reference, necessary to avoid discrepances during negotiations. This corner is therefore still called 'Canton delle Busie' (Corner of Lies).
And one of the last things: Padua is the city where the Aperol Spritz was born!
Read the interesting article in 'Travel Leisure'
One cannot forget these food markets. This is the real Padua, take it slow and check everything out.
Exploring the Culture of Italian Food Markets in Padua.
Open from 8am to 1:30 pm, the markets are full of fruits, veggies, cheeses, meat, fish, wines, prosciutto, salami, with all the sights, sounds and smells you would expect from an open air and indoor Italian market.
Location: Veneto region - Padua - Italy
Why Should You Take a Food Market Tour?
• With a food market tour you will learn about a city or about our country Italy through its local farm to table ingredients;
• We will give you a lot of interesting stories that will enrich your experience;
• You will experience the finest and freshest local delicacies;
• You will learn a lot about certain food or veggies or fruits and when they are in season and when they are good for cooking;
• You will discover the food history;
• We will give you a complete overview of the meaning of a food market in Italy.
The Food Markets: Sotto il Salone, Piazza delle Erbe, Piazza dei Frutti are the oldest food markets in the world (1218-2018). Visit the best food markets in the world.
Street Food and Padua Markets: a nice assault on the senses with smells coming from the Italian cheeses (provolone, parmigiano reggiano, gorgonzola, burrata, pecorino romano, ricotta....) and Italian cured meats (Prosciutto, Salami, Soppressa, Mortadella DOP, Bresaola DOP, Pancetta, Guanciale....) to fruit, from the spices to vegetables.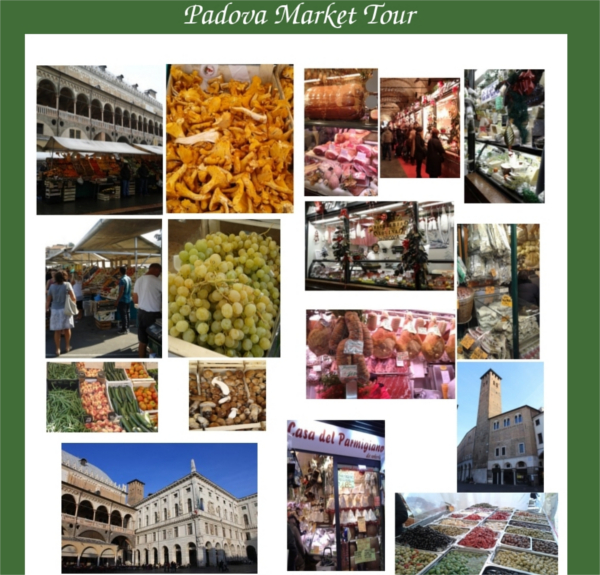 Every day feel like a local (from Monday to Saturday)
Visit four of the most ancient public markets in the world: Padua's markets.
Walk through the traveling markets - Piazza delle Erbe, Piazza dei Frutti, and Piazza dei Signori three open-air markets, and "sotto il Salone", a special marvellous covered market - to see many colours, smells and vegetable and fruit variety.
In Padua you can find a great place about seasonal fruits, vegetables, cereals, seeds, salads and herbs, cheese and salami, sausages and meat.
DETAILS
• Duration: 3-4 hours
• Minimum: 1 ADULT
• Price: ON DEMAND BY EMAIL
• Inclusion: chef Isa is your private tour guide, pastries, coffee, wine AND food tastings!
WHAT YOU'LL DO
• On our Market Food Tour: Padova, we'll introduce you to the real Padova, away from the tourist traps and the museums, where you can visit the local markets, sample a selection of the best traditional salamis and cheeses paired with the best local wines, and more
•FIRST STOP
•Padova is famous for some delicious pastry bakery shops (pasticceria). We'll stop by one of the most delicious cafès in the city to learn how local Padova people do breakfast.
•So you will taste cappuccino or espresso coffee with a famous 'brioche ferro di cavallo', horse shoe croissant, filled with jam. Or during Carnival, the sweet fritters frittelle, or a cake with custard and fragoline di bosco, wild strawberries.
•THEN: Visit the off the beaten track Sotto il Salone and Piazza delle Erbe where everyday local people go for local produce.
•THEN: Visit a local BAR. You will taste APEROL SPRITZ or CAMPARI SPRITZ or HUGO SPRITZ or SELECT SPRITZ
•SPRITZ: A WAY OF LIFE. In Padova and Veneto region, Spritz is way more than a drink or a cocktail.
•It is the ideal "aperitivo" before lunch or dinner, it is an excuse to meet, talk and eat soft TRADITIONAL stuffed bread sandwiches, called tramezzini, or olives and chips, bread and local salami, or panini or Italian toasts, or instead of SPRITZ a glass of DOCG PROSECCO WINE or a glass of DOCG red wine served with tramezzini, olives, chips, et cetera.
•of course you can taste a Non-alcoholic options drinks.
•THEN: We will visit the Caffé Pedrocchi [peh-DROHK-kee], the most famous historic Café founded in the 18th Century in Padua.
Many artists and intellectuals, such as Lord Byron and Stendhal, hung out here. Stendhal defined it "simply the best in the world".
The speciality of the Café is the 'Caffè Pedrocchi': it is a coffee in a medium size cup with mint flavoured cream and a sprinkle of cocoa powder. The precise recipe is a secret.
When they serve you they give you no teaspoon, because they say you must not stir.
At the end of the food tour, you can take a cooking class with Mama Isa. Everything you will taste is "Made in Italy".
The market's tour is also a fun way to shop! And you're likely to be able to find something a bit different for an original present or for an Italian souvenir: why not to purchase a kilo of Parmigiano Reggiano cheese or Prosciutto Crudo di Parma or Soppressa Veneta or Asiago cheese or.........
A great market tour for people who have a love of Italian Food and an great interest in learning more about Italian Culture. Remember we offer Food Market Tour in Padua for small groups (max. 8 people).
Padua Food Tours: a MUST try!
Padua FOOD MARKET (for a minimum of 2 guests, max 8)
(Only from Monday to Saturday all year round)

How to get in touch with us?
Whether you want to enquire about our food market tour, please just contact us and we will get back to you within 24 hours.
SEND US AN EMAIL for inquiries, questions, informations!
Click here ---->

to send us an email: isacookinpadua [at] gmail.com
CHAT WITH US ON WHATSAPP!
Click here to chat with us with Whatsapp----->.

or CALL US BY PHONE with WHATSAPP +39 351 576 74 93
A last thing: if you don't find our mail reply in your inbox within 72 hours, please check your junk mailbox or contact us soon again. Whatsapp is more convenient, but you can email us again, of course!
We accept last minute requests.
We have already received 760 five-star reviews. Click the image below to see our reviews.