We have more than 25 Classic Cooking Classes - Cooking Lessons. Visit our webpage "about our cooking classes"
Hands on Cooking Courses taught by professional chef in English.
Read our Reviews on Google about Mama Isa's Cooking School
Our Cooking School Highlights:
1- Hands-on Cooking Classes in small groups (and not a demonstration)
2- Fun and relaxing atmosphere
3- English speaking chef
4- If you are interested we can offer you accomodation in our lovely apartments for rent
5- We love the motto "Farm to table"; we use only the best quality and freshest produce available to us here!
6- Friendly accommodation
7- You will have the luxury of a small cooking course and really enjoy the personal attention!
8- Historical Explainations About Italian Food, Culture and History
9- Learn the unique Mediterranean diet, Italian-style: prototype of a healthy diet
10- Learn to pair food with excellent wines from Italy;
11- Immerse yourself in the authentic Italian culture with the local people
12- Our mission is to turn people into informed eaters, who know how to taste and cook food that is healthy, tasty, and of the highest quality.
13- We use highest quality ingredients and extra virgin olive oils;
14- Learn the slow cookery method to enhance flavors, nutrients and anti-oxidants;
We offer one day or 3 day or 6 day or a week cooking program.
Our cooking courses are recommended for solo travelers.
We happily accommodate and teach guests with dietary restrictions and gluten-free intolerance, vegans or vegetarians.
If you book one week cooking course you are plenty of time to explore Veneto region. In a one week vacation is included a full day culinary excursion
-----------------------------------------------------------
Mama Isa is always flexible about the menu and about the time!!
The menu will be adapted on your tastes!
-----------------------------------------------------------
To contact Mama Isa, please fill out the form below: If you don't receive an answer within 24-36 hours, it means we haven't received your message or our email is in your spam folder. So remember... check your spam folder or please contact us again via e-mail or by phone with a text (our mobile is +39 339 2672571)
We are all used to communicate with our friends via WhatsApp. Chat with us via Whatsapp +39 339 26 72 571 - +39 is the Italy code - For Cooking Course Bookings and Enquiries Only.
Contact us soon with WHATSAPP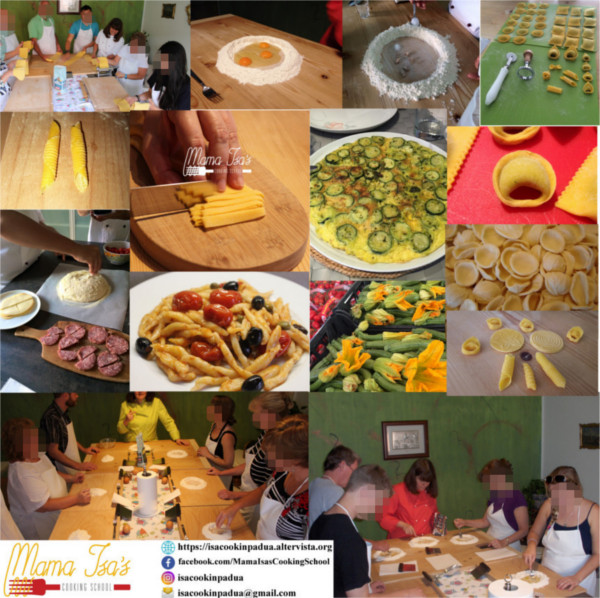 ------------------------------------------------
We are featured in The New York Times, Fox News, & more).! Click Press
The German Television "ZDF" filmed a documentary about the art of pasta making at Mama Isa's Cooking School!!!!
Certificate of Excellence 2018 at Mama Isa's Cooking School in Italy near Venice more details here
Join Our Social Networks |
Mama Isa's Cooking Classes in Venice area Italy