Hands-on Cooking Classes in Italy Venice area and more
One of the best cooking schools in Italy. The New York Times, Fodor's, Fox News named us one of the 10 top cooking schools in Italy.
Discover The Secret of the Five Tastes with Us!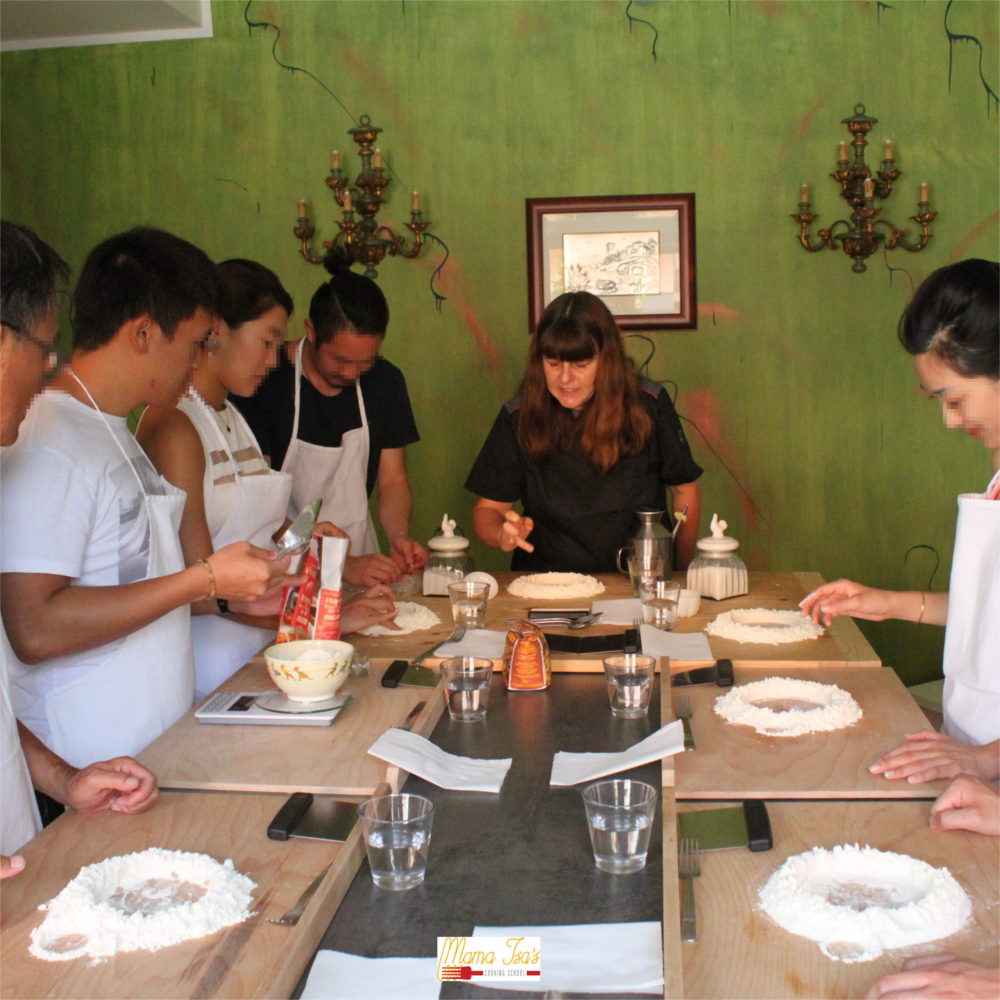 What Is The Best Way to Learn to Cooking? An Active Personal Involvement and An Hands-on Learning, of course!
Our workshops and lessons are based on an experiential, active, concrete learning: a decidedly personal experience!
Our great emphasis is placed on combining the five flavors: sweet, salty, spicy, bitter, and umami (the glutamic taste).
Yes the Regional Italian Cuisine is naturally rich in umami taste (ripe tomatoes, black and white truffles, raw egg yolks, sundried tomatoes, air-dried Prosciutto Crudo, Colatura d'Alici, radicchio, caramelized onions, asparagus, spinach, cabbage, Parmigiano Reggiano and other aged Italian cheeses, tuna, fresh and salted sardines, Bottarga, black cuttlefish or squid ink, beef stock reductions, Dried Porcini Mushroom, and much more!)
We hope that you will explore our website and discover why the Mama Isa's Cooking School is unique!
Have fun at our cooking classes in Italy Venice.
TOP RATED on ----> TRIPADVISOR;
TOP RATED on ----> TRUSTPILOT;

We offer 1 day - or 2-3 days or week cooking classes or workshops about the art of Italian Regional Cuisine
• Our cooking classes are completely hands-on, taught in English.
• Our mission is to offer our guests the cooking vacation of a lifetime.
• Small Cooking Classes: maximum 8-10 people. For foodies, this choice was a no-brainer.
• Availability: Year-round, January-December (available on request for any day). Flexible start dates and duration, as well as a wide range of specialized courses to suit your needs. We work throughout the year!
• Our Cuisine: Classic Italian from scratch.
• We accept booking in advance or last minute requests.
• With us anyone can learn to be a great cook. You will use your own five senses
• Menus (very flexible) based on the best of what's in season: farm to table. We love the philosophy of Slow Food Organization.
Everything we do is dedicated to ensuring our guests have the opportunity to become an Italian Cook.
Explore Italy Through Its Cuisine with The Cooking Classes at Mama Isa's Cooking School Venice Italy.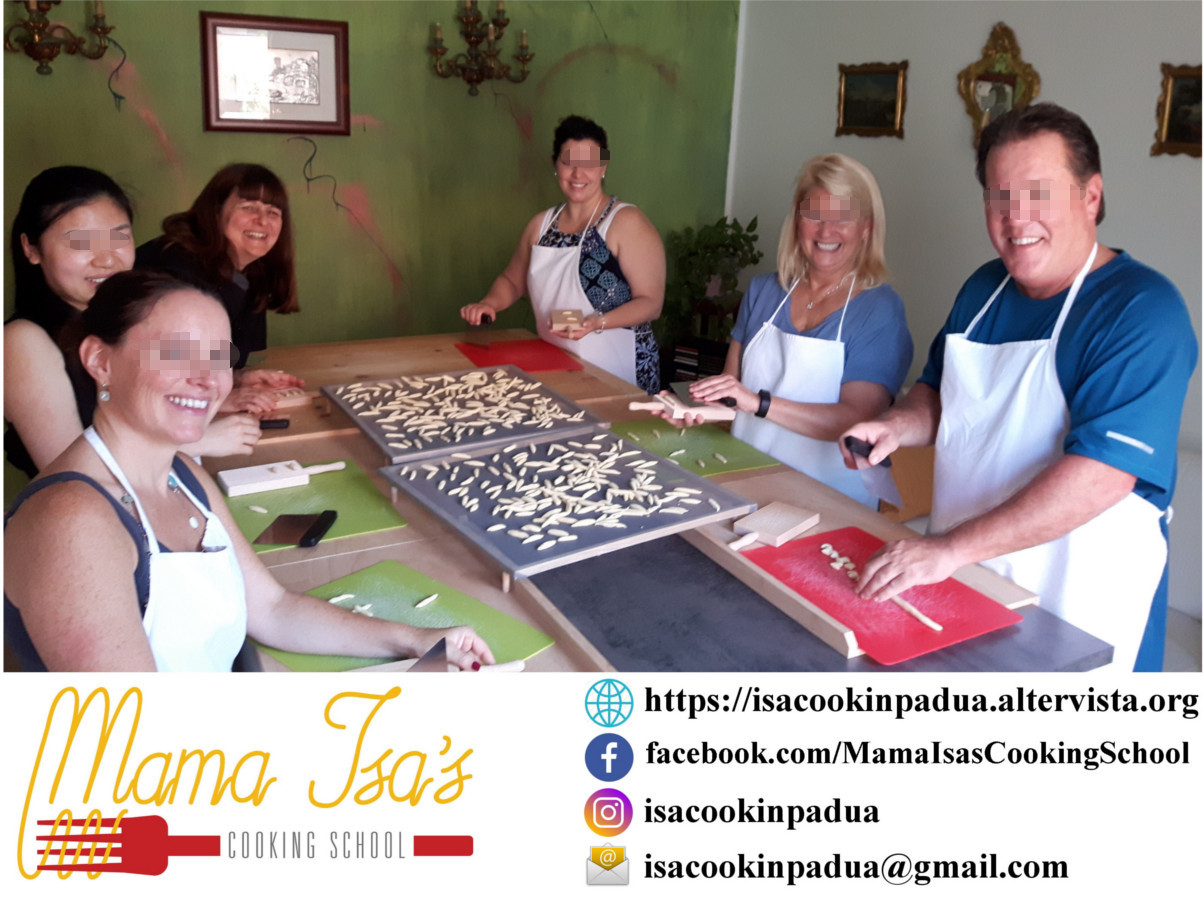 Location: Veneto region - Venice area - Italy
Every day you can choose one of our fav dishes from our cooking classes menu list.
Make your choice as soon a possible on our timeless cooking classes and our menus.
Our cooking classes are equipped with multidisciplinary tools (not only skills about cooking or recipes, but lots of historical informations about the Italian Food and techinques), providing a range of innovative and unique cooking programmes.
Not only you will learn so much about the pasta making or cooking process but also about the importance of the quality of the ingredients you use to make your recipes.

"Cooking is our love, perfection is our goal"
Why Guests Choose Our Cooking Classes?
• During our cooking classes we will give you our complete and undivided attention;
• We provide hands-on skills, confidence, knowledge, the techniques involved in the art of Regional Italian Cooking;
• No set menu - there are a large number of different, mouth watering cooking classes items to choose from, with new dishes added every month;
• Friendly and welcoming learning environment;
• With Isa's you get to decide which of your favourite dishes you will learn to cook;
• Focus on guest-centered learning;
• Our guests simply learn better because they're allowed to roll up their cooking experience the subject matter in a simulation, rather than being distanced from it by a third-hand demonstration or a simple passage of recipe;
• Flexible schedule;
• The food is focused on seasonal ingredients, abundant and excellent products from all over Italy, attentive service and carefully chosen wines;;
• Hundreds of memorable reviews (not only on Tripadvisor, but also on Trustpilot, Yelp, Google Business, HappyCow.... and more;
• Flexible Menus, based on classical authentic Regional Italian recipes;
• Mama Isa's Cooking School has been ranked among top 10 cooking schools in Italy.

PRESS RELEASES
• Rated by The New York Times as one of the "Top Five Cooking Classes in Italy"
• Featured in the Fodor's Travel in its last edition "Essentials Travel Italy 2020" as one of the 10 best fantastic cooking classes in Italy;
• Fox News Channel said: "A Culinary Experience of a Lifetime";
• Selected by Lonely Planet as the one of the " Top Cooking Classes in Italy";
• much more on our webpage ----> PRESS;
We have a good vibe, healthy fun, good and authentic food.
• much more reviews on ----> TRUSTPILOT;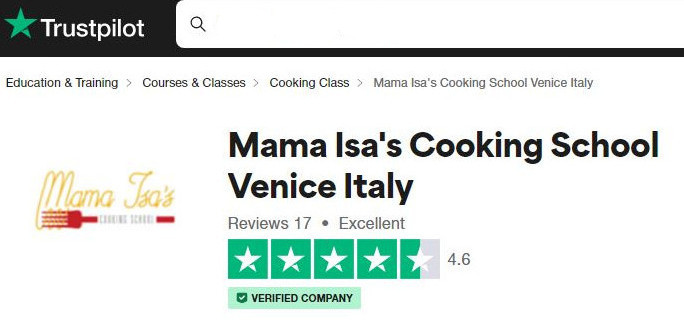 What Are Our Cooking School Highlights?
• Hands-on Cooking Lessons in small groups (and not a demonstration);
• Usually there is no set menu at our cooking school: what decides what we cook is the food market, the climate, the season;
• Fun and relaxing atmosphere;
• English speaking chef;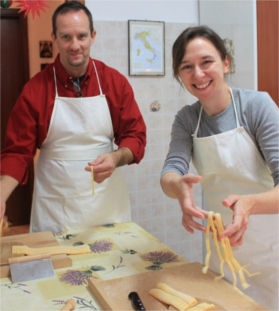 • We love the motto "Farm to Table";
• We use only the best quality and freshest produce available to us here!
• Friendly accommodation;
• Historical Explainations About Italian Food, Culture and History;
• Learn the unique Mediterranean diet, Italian-style: prototype of a healthy diet;
• Learn to pair food with excellent DOC or DOCG wines from Italy;
• Immerse yourself in the authentic Italian culture with the local people;
• Our mission is to turn people into informed eaters, who know how to taste and cook food that is healthy, tasty, and of the highest quality;
• We use highest quality ingredients and extra virgin olive oils;
• Learn the slow cookery method to enhance flavors, nutrients and anti-oxidants;
• We happily accommodate and teach guests with dietary restrictions and gluten-free intolerance, vegans or vegetarians.
Why You Should Go on a Cooking Vacations with Us in Italy?
Here are a few Top Reasons
• A cooking vacation or a cooking class can be very interesting and relaxing;
• Indulge your senses. Cooking Classes or Cooking Vacation are about indulging;
• You will learn about local Regional Italian Culinary Customs and Cultures;
• You will discover and open your minds to new textures, flavors, textures, old family recipes, and heritage;
• You will have a memorable and unique experience.
ABOUT OUR COOKING CLASSES
Our Cooking classes are designed to be fun! They are a great way to have a new and unique experience, or taste the real Italian Regional cuisine you haven't tried before. Expect to be exposed to new recipes, flavors and ingredients profiles.
Our Cooking courses and cooking classes provide a balance of learning and social interaction that can be both fun and educational.
But this is not a professional culinary school with very long professional courses
Our courses take place in our home. We have two (2) kitchens and a very large big table where we will work together!

How to get in touch with Mama Isa's Cooking School?
Whether you want to enquire about our cooking classes, have special dietary needs, want to organize something special or anything else, please just contact us and we will get back to you within 24 hours.
SEND US AN EMAIL for cooking class inquiries, questions, informations, suggestions or collabs!
Click here ---->

to send us an email: isacookinpadua [at] gmail.com
CHAT WITH US ON WHATSAPP!
Click here to chat with us with Whatsapp----->.

or CALL US BY PHONE with WHATSAPP +39 351 576 74 93
A last thing: if you don't find our mail reply in your inbox within 72 hours, please check your junk mailbox or contact us soon again. Whatsapp is more convenient, but you can email us again, of course!
We accept last minute requests.