Seafood Cooking Classes | Mama Isa's Cooking School Venice Italy
Fish Cookery Course: ideal for Italian food lovers wishing to learn the essentials of Italian Seafood Dishes. Completely hands-on and from scratch.

Seafood Cooking Course in Italy: This is Mama Isa's best cooking course.
Mama Isa will teach the difference between farm raised and wild caught fish, focused on sustainability. Seafood and shellfish cookery lessons are suitable for all!!! You will learn practical instruction with a hands-on experience.
The class will focus on the cleaning, preparation, and cooking.
Cooking Class is taught in English and length is about 4-5 hours.
The classes are for cooks of all levels and the course is ideal for learning some of the most delicious and superb Italian Seafood recipes.
Fresh Clams, Squilla Mantis, Fresh Swordfish, Fresh Octopus, Reef Mullet, Cuttlefish for a marvellous "nero di seppia sauce", Sea Scallop in its shell, Orate Sea Bream, Fresh Branzino, Fresh Anchovies, Fresh Sardines.
This 4-hour workshop is designed to teach you how to choose, clean, prepare and cook mouth-watering Italian seafood dishes!!! You will discover how to quickly peel a shrimp or to scale a branzino, thanks to tips & trucks from Chef Mama Isa.
Sample of Recipes:
- Garlic, Parsley, Extra Virgin Olive Oil, and Sea Scallops
- Spaghetti with white Clam sauce or red Clam sauce
- Potato and Octopus Salad
- Swordfish in "acquapazza"
- Squilla Mantis "alla buzara"
- Baccala Mantecato
- "Alici Marinate" Marinated Anchovies in White Vinegar"
- Orate baked in oven with Potato and Cherry Tomatoes
- "Impepata di Cozze" (with tomato, mussel, evoo, red chilli pepper, wine)
We love Sea Scallops - a bivalve mollusk!
But at Mama Isa's Cooking School you can taste only live scallop. The curved orange coral is a real delicacy.
At our cooking school you will learn how to clean live sea scallops!

You can taste:
- Risotto with Baby Shrimps
- Risotto with Mussel in Venetian style
- Fresh Fettuccini with Seafood Ragout
- Seafood Stew - Zuppa di Pesce
Come to learn the fundamentals of seafood in Italy, become more familiar with fish terms, learn how to clean, scale and peel seafood! Book a seafood cooking class and you will learn how to clean fresh octopus, how to deheading, shelling, and deveining fresh prawns or small shrimps, how to clean fresh squid or cuttlefish,.....
Join Mama Isa, your cooking class teacher, for a seafood class!
Contact Mama Isa at isacookinpadua (at) gmail (dot) com or +39 339 26 72 571 for more information or to register for the class.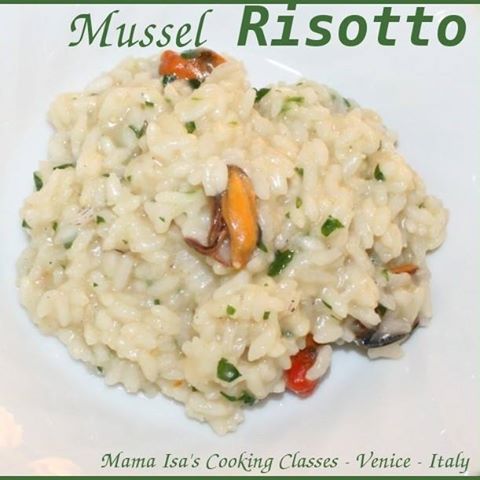 To contact Mama Isa, please click the link ---> CONTACT US or by phone send a text (our mobile is +39 339 2672571) or send us an email, click --->HERE
We are all used to communicate with our friends via WhatsApp. Chat with us via Whatsapp +39 339 26 72 571 - +39 is the Italy code - For Cooking Course Bookings and Enquiries Only.
Contact us soon with WHATSAPP